When I left the house this morning, I mentally prepared for it. I assumed that today's color scheme was representative of some school's colors. This assumption aside, my intention -- with today's outfit -- was to do "runway" the "real way."
I first saw bright blue and orange paired together in Vogue. It makes sense -- they are at opposite sides of the
color wheel
. Coral and turquoise are complimentary of each other -- why not safety orange and cobalt blue? The models I saw were swathed in vibrant colored silk. One in an electric blue pantsuit with a bright orange cami, the other in a vivid orange dress with a bright blue pattern. Not having either the pantsuit or the dress, I opted for a cotton cami from Express, a blue cardigan from Ann Taylor Loft and my gray pants. I debated whether or not to tuck, but given my
ongoing belt loop drama
I opted for untucked. I piled on the jewelry and headed for the office.
The second I stepped foot in the office door I hear: "You're wearing Southwest Airlines' colors today?" Huh? I was not mentally prepared for that. I proceeded to argue that SWA's colors were a bit darker than what I was wearing. But this woman insisted that she had just seen a plane that morning and I was in fact wearing the same colors. I guess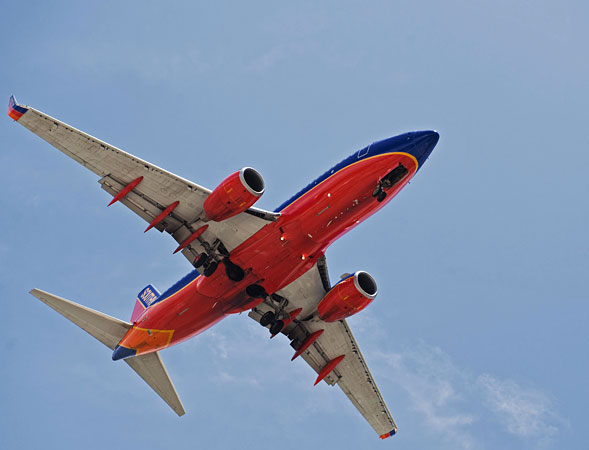 I should have taken her word for it. I mean, after all, I'm sure if she saw a plane -- 5,000 feet in the air -- she would know. Instead I used Google -- close, but I see the difference.
Later today, I found out that I was in fact wearing school colors.
Boise State
to be exact -- GO BRONCOS!
Believe me, this was not my intent. I simply wanted to see how bright orange and blue would translate outside of a fashion magazine. And apparently it translates to: "Welcome aboard Southwest Airlines flight 1286, final destination Boise."